Cleveland's Home Comfort Specialists:
Seasonal maintenance can prolong the life expectancy of your heating and cooling system. Reader Heating and Cooling offers a seasonal maintenance program for homeowners.  We recommend maintenance the furnace in the fall and the air conditioning unit in the spring to prepare your home for the upcoming harsher seasons of winter and summer when your units will be working harder.
Regular Maintenance Services
Maintaining your home's HVAC equipment is key to preventing future problems and expenses. A trained and certified technician can perform an annual pre-season check for your units.  We recommend a clean and tune service for your furnace in the fall and for your AC in the spring.  This way the units will be prepared for the up-coming season's usage.
Check controls and thermostat Our technicians will test the functioning of the controls and thermostat.  This helps to ensure accurate operation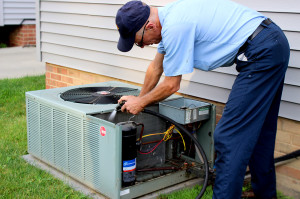 so that you don't have any unforeseen issues in the coming season.
Inspect electrical connections and control box Our technicians will tighten any loose connections; inspect the control box, the wiring and connections for wear and damage; and measure the voltage and the currents on the motors. This helps to eliminate unsafe operations of your system and increase the longevity of the unit's components.
Inspect fan motor and blades for wear and damage. Our technicians will add lubrication to any motors and blowers where applicable.  This helps to prolong the life of your equipment.
Check filter  Our technicians will check the filters to see if replacement is needed.  They can also help to determine the best type of filter for your home's needs.  This helps to determine if a new filter is needed and keep your air quality ensure proper air flow and protect equipment.
Cooling Specific
Clean condenser air conditioning coils. Dirty coils reduce the system's ability to cool your home and cause the system to run longer, increasing energy costs and reducing the life of the equipment.  Debris, pollen, etc.
Check refrigerant level Our technician will inform you if it is too much or too little.  Too much or too little refrigerant will make your system less efficient increasing energy costs and reducing the life of the equipment.
Inspect blower components to provide proper system airflow for greater comfort levels. Airflow problems can reduce your system's efficiency by up to 15 percent.
Inspect compressor and associated tubing for damage.
Heating Specific
Check all gas connections, gas pressure, burner combustion and heat exchanger.  A dirty burner or cracked heat exchanger can cause improper burner operation.  When this happens the equipment operates less efficiently.  In addition, improperly operating gas (or oil) connections are a fire hazard and can be a disaster to a home and one's health.
Seasonal Maintenance Tips
Replacing Filters This can be one of the most overlooked practices.  Filter replacement can occur anywhere from once every other month to four times a year depending on your environment, your unit, and your usage.
Our technicians can help you determine how often your specific system's filters should be changed.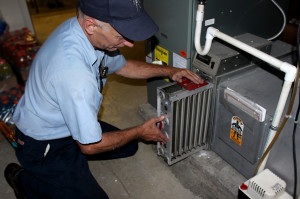 Inspecting Fan, Bearings, and Belts Proper functioning of these components are essential to increased longevity of your unit and should be checked twice annually.  Issues with these components may not be as apparent but with a bi-annual inspection you can ensure optimal performance.  Our technicians will check the fan motors, belt alignment and tension, and bearing lubrication where applicable.
Inspecting Air Handler It is important to check your air handler during the bi-annual inspection for any standing water.  This could be a sign that your unit needs repair.
Ask a professional to take care of your equipment
Our maintenance program includes servicing the essential components of each unit and testing the function of the unit. Our experienced team will do the job right.