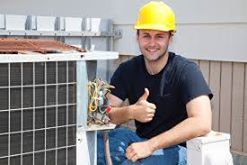 This article explains how to choose the right heating and cooling company for you.
You will learn how to avoid the high pressure sales tactics and choose the best contractors for your needs.
Choosing the right team is critical: 
Do your research

Ask for referrals

Call references

Find special offers

Ask for a home inspection

Get a written estimate

Sign the written proposal
Step one Do your Research
Before you hire a contractor. Be sure he his properly licensed insured and bonded in the State of Ohio.

Take note of the make and model of your unit.Provide the technicians with the maintenance history.

Take the time to discuss how effectively your current system over heats or cools certain rooms in your home.
Step two Ask for Referrals:
Ask your friends,family,co-workers and neighbors for companies they have worked with.

Inspect the workmanship of your colleagues and friends
Call References 
Ask the contractor for references. Call the homeowner or business to discuss the professionalism of the company.
Find special offers
A heating and cooling system installed by the right contractor is still a major investment. Research your needs and seek out the best deal.Check out rebates and reward programs. Ask your accountant if there is any tax benefit in purchasing one unit over another.
Ask for a home inspection
The contractor should come to your house and inspect your homes size,insulation,windows before recommending a furnace for you.
Get an written estimate
The highest and lowest price is not always the best choice. Be sure that the contractor selects the right size furnace to meet your needs.
 Other criteria include:
 

Deal with reputable vendors only. Those with integrity and an Ohio HVAC license

Check them out online. Do they have stellar reviews.

Do you trust them in your home?

Are they reasonably priced?

Do they answer their phone?

Do they care about quality?

Do they start jobs and never finish them?

Do they look and act professional?

Are they easy to work with?
It is imperative to review this list- and reward great contractors with your business and a thank you.
Be sure to get a written estimate- so you have an understanding of what was discussed and how much it was going to be.
Sign the proposal
Before any work is done- be sure to sign the proposal. This will protect you by specifying project costs, model numbers, job schedule and warranty information.
Summary:
Do not accept mediocrity or excuses. Your home is a precious asset- why place your heating and cooling in the hands of an unskilled amateur?